Investing
This is How Much You're Expected to Spend This Chinese New Year
This is How Much You're Expected to Spend This Chinese New Year
Let's be honest. Chinese New Year is a time where more expenses incur for those who are celebrating. This is especially true for 2020, where Chinese New Year is just a short, one month from Christmas last year. It's not surprising if some of us are still recovering from the damage done to our wallets.
However, is it necessary to go all out with our expenses to have a joyous and prosperous celebration? Some people might agree – quoting that it's a 'once a year thing', or it's customary to do so. From new furniture, new clothes to even new plates, the act of buying new things symbolizes a fresh start to the year ahead. On the other hand, some might disagree with this practice and deem it as unnecessary expenditure. Regardless of what your personal beliefs are, consider this – the habit of overspending is especially prevalent among consumers during festive seasons.
Here's a breakdown on typically how much you're expected to spend this Chinese New Year. The figures here are just an estimate or average; the actual cost would depend on your personal spending habits and budget.
Food
It's almost impossible to list down every single item people buy during Chinese New Year, but this is typically the list of common items people spend on:
Bak Kwa: RM 100/kg (+/-) depending on the brand
It's hard to resist these sweet and savoury, juicy morsels of sliced meat. Legend has it that due to its deep red colour, it supposedly wards off negative aura and represents good fortune. Most people find it hard to stop at one when it comes to these bad boys. *Urgh. Guilty as charged.*
Tarts and Cookies: RM 20 – RM 40/jar
No matter what your budget is, there's bound to be jars of cookies and tarts lying around in the living room. These unassuming, buttery little confections do more than just entertaining the guests when they visit. In fact, many people have gone the lengths of securing the best cookies or tarts they can find from home bakers, online sellers or even hotels at a premium price during Chinese New Year. Prices can range from RM 20 (more or less) at the local supermarket or grocer, up to RM 40 or more for premium, homemade versions.
Mandarin Oranges: RM 17 (S) – RM 48 (XL)/box (Depending on size and number of oranges)
Pronounced as 'kam' in Cantonese, mandarin oranges symbolizes wealth or prosperity. Apart from being juicy, sweet and delightfully delicious, these gold nuggets in the form of a fruit is an auspicious 'must-have' during Chinese New Year. Bring a pair of these along when you go around visiting your friends and relatives, and you might just land yourself a lucky red packet.
Nian Gao (年糕): RM 9 – RM 16/each (about 400g – depending on the source)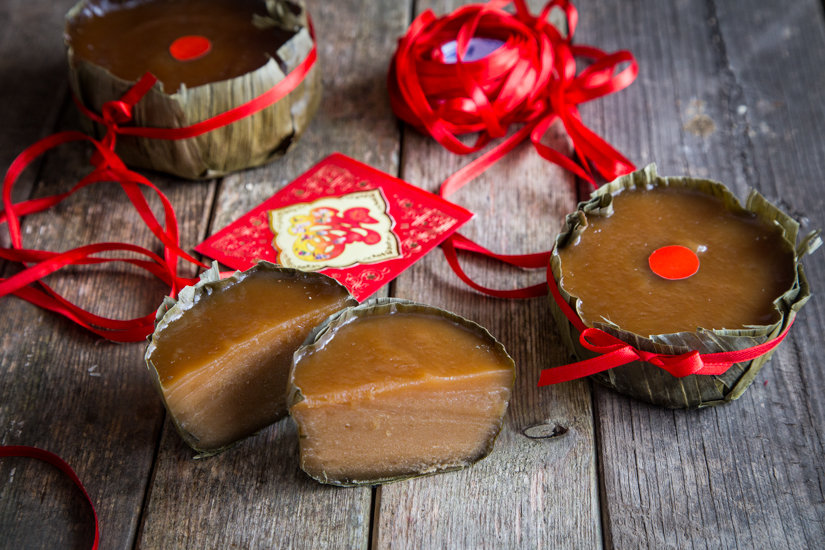 Nian Gao (年糕), or kuih bakul is another Chinese New Year staple. This traditional sweet rice cake, wrapped in fragrant banana leaf does not come cheap due to how labourious it is to make them. These days, cheaper mass-made alternatives can be found at supermarkets where they're usually sold at a fraction of the price.
Reunion Dinner (Eat-Out for 8 – 10 pax): RM 798 – RM 2,988 (or more)
The cost of eating out for reunion dinner is usually marked up during Chinese New Year, with many places (restaurants and hotels) costing from several hundred bucks all the way to a few thousand Ringgit – just in one sitting. Certain large families may even have more than one table, which means double or triple the price. Budget conscious families or families who prefer home-cooked fare will find themselves saving more than a few thousand grand in one night if they cook and eat at home.
Travel
Next on the list, travel. This is the time of the year where family members from all over the country or other parts of the world would return home for reunion. Unless you live in the same city as your family and extended families, travel is often a necessary cost.
Flight: Varies (Depending on type of airline, location, time, and air miles factored in)
The price of a flight ticket is subjected to the airline you're flying with, where you're going, the time of your booking and if you have any air miles available for exchange. However, the rule of thumb is this – the earlier you book (preferably few months in advanced), the better your chances of securing cheaper flights. Last minute bookings are usually not encouraged as the price will be exorbitantly inflated. A domestic flight from Kuala Lumpur to Penang may even set you up to RM 500 and more for a return ticket, without luggage and other taxes.
Train/Bus: Again, it varies – depending on the location.
Okay, so the bad news was you couldn't get a cheap flight back home. The good news is, there is an alternative option for you to take the train or bus. As these land transports are relatively cheaper, tickets sell out fast. It's best for budget conscious individuals to always plan their journey home as early as possible.
Car/Motorcycle – Depends on the distance, price of petrol and vehicle maintenance
If all else fails or if some of you choose to, there's the option of driving home if you're staying within the borders of the same country. Of course, the cost of maintenance, toll and petrol would vary depending on your type of vehicle, condition of your car or bike and distance from home.
Bonus Tip: Car Pool
If budget is your main concern, consider car pooling with your friends who are travelling back to the same city. It's good for the wallet and environmentally friendly as well.
Red Packets or Ang Pows
Chinese people associate red with happiness, prosperity, luck and energy. The giving and receiving of red packets symbolise the exchange of good luck and well wishes for the new year (for both the giver and receiver of the ang pow). Ang pows are also a way to wish another person a prosperous and safe new year.
Generally, the giving and receiving of ang pows are strictly between married adults to children and unmarried adults. The only exception to the rule is that you can exchange ang pows with your parents or in-laws as a sign of respect to the older generation. It is also considered good manners to wish the elder family members well with ang pows. There is no age limit to receiving ang pows so you can be an unmarried adult at 40 and you would still be able to receive the red packets.
If you're giving this year, this is a general guideline to help you determine how much to insert in the envelope.
| | |
| --- | --- |
| Relationship | Ang Pow Amount |
| Offspring | RM50 to RM200 |
| Parents/In-laws | RM88 to RM188 |
| Other children (nephews/nieces/friend's children) | RM10 to RM25 |
| Unmarried siblings | RM50 to RM100 |
| Grandchildren | RM 10 to RM 50 |
The amount in the ang pow varies depending on the relationship between the giver and receiver. Ultimately, you can decide the ang pow amount that you are comfortable giving. However, even if you're not superstitious, it is best to avoid the number 4 in the amount due to all the bad connotations attached to it in the Chinese culture.
Personal Grooming
For those who are planning to spend on personal grooming, there's new clothes, shoes, bags, hairstyles, nails, make up, facial packages and the list goes on. It's that time of the year where businesses are shoving their goods and services right in your face asking you to BUY BUY BUY.
Buy more, 'huat' more they say. The better advice here would be to buy what you need, what you can afford and splurge only if you have extra money to tide over the month after CNY. Remember, credit card debts will not make you more 'huat', it'll only drive you deeper into an endless loop of debt.
In Conclusion
This list is definitely far from comprehensive of what you're expected to spend this Chinese New Year. But it definitely gives you a good estimate of what and how much people typically spend during the festive season. If you come from a big family, chances are you'll also spend more with all the outings, gatherings and gifts (including ang pows).
All in all, the best way to 'HUAT' this Chinese New Year is to keep track of how much you're spending. And if you're still receiving ang pows – do consider investing them. It's inevitable that the bills will be higher this month, but keeping things within our means would make a difference in our finances for the rest of the year.
Lastly, Happy Chinese New Year and have a prosperous one from all of us at SyncWealth.
Powered by SyncWealth on Google Play and App Store.
Find this article useful? Pass it on!


Source
This is How Much You're Expected to Spend This Chinese New Year is written by Serene Tan for syncwealth.io